The Most Frequently Asked Cross-Border Questions
Trucking is not just a job, it has also become a symbol of efficiency. As the hub of commerce, the Canada-U.S. border is one of the busiest places in the world. We see thousands of trucks rolling across the border, carrying more than $2 billion in trade every day. However, it is not an easy feat to cross one of the largest borders in the world. There are documents, security checks and regulations to consider. In order to master cross-border transport or shipping, we've compiled a list of the most commonly asked questions from truckers and shippers, so that we can get the basics down easy. Here is your quick cross-border guide: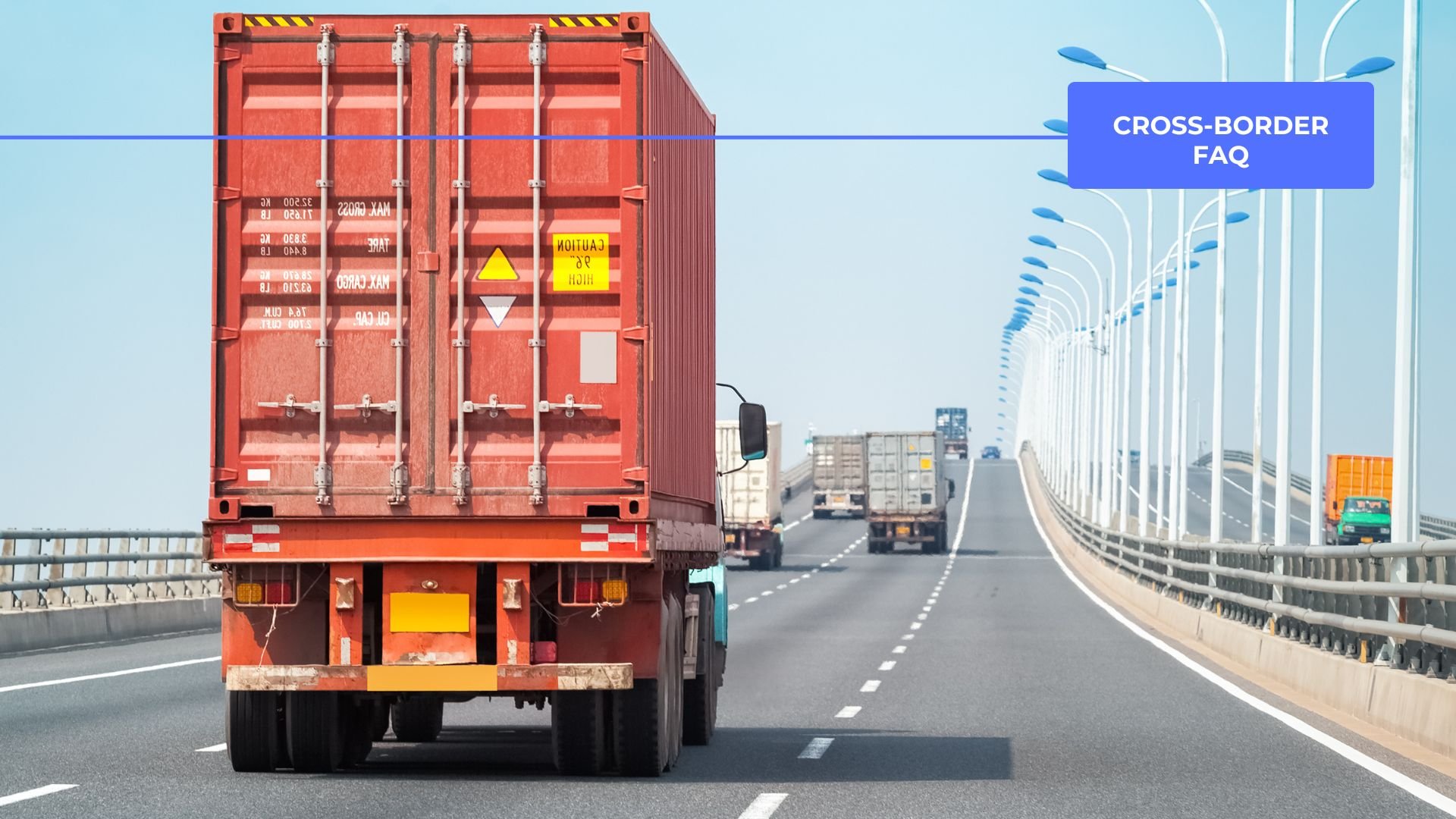 Where will the freight cross the border?


Gateway location is dependent on the location from which a shipment departs/origin and where it is headed (delivery destination). Geographically there are several paths a carrier may take. For a complete list of the points of entry refer to CBSA's website, or refer to Zipments ports directory, for other necessary information and any delays.


U.S. and Canada: Border Crossing Locations
Idaho-British Columbia
Washington-British Columbia
New York-Ontario or Quebec
Montana-British Columbia, Saskatchewan or Alberta
New Hampshire-Quebec
North Dakota-Manitoba or Saskatchewan
Michigan-Ontario
Maine-Quebec or New Brunswick
Minnesota-Ontario or Manitoba
Vermont-Quebec

What information does a carrier need to provide to identify themselves?


When crossing into the U.S., in order to identify to the CBP; a SCAC code is required. When crossing into Canada, the carrier requires the Canada Highway Carrier Code.

What is the CBP or the CBSA?
The CBP is Customs and Border Protection, meaning the US customs. Meanwhile CBSA is the Canada Border Services Agency, so the Canadian customs.
What documents do I need in order to cross the border with my shipment?
When shipping cross-border, you want to include all the relevant documents that identify and describe your shipment, as per CBP and CBSA requirements. Customs need to know what you are transporting, where it comes from and the value of the shipment. Delays most often occur if you do not have proper documentation, so this step is most important in the process, especially to avoid any mistakes or even potential fines.
Some of the key documents you need:
Certificate of Origin
BOL (Bill of Lading)
Packing List
Commercial Invoice or Customs Invoice
Manifest
Who is responsible for customs clearance?
The customs broker is responsible to make sure documents are submitted and accurate, as well as any duties/fees are paid for the shipment. If there is no broker, then the importer or customer takes on the responsibilities.
When do I need to submit my electronic pre-arrival information?
For both Canada and the United States, your pre-arrival data must be submitted minimum

one (1)

hour before arrival. For shipments qualifying for the FAST (Free and Secure Trade), the information has to be sent at least 30 minutes prior to arrival.

How does a carrier obtain a SCAC or a Carrier Code?
To get a SCAC code, you apply via the National Motor Freight Association (NMFTA) website.
To get a Canadian carrier code, you can use the Zipments carrier code application.

What does a driver or carrier need to cross the border?
Aside from your passport and CDL, most carriers will require:
PARS/PAPS Labels
Manifest
SCAC code
Canada Highway Carrier Code
You also need a social security card, and a FAST card, when applicable.
If my PARS or PAPS is accepted, can I still be inspected?
Yes, even if your PARS/PAPS checks out and is accepted by customs, you can still face inspection at the border. Inspections are usually at the discretion of the customs officers, so make sure you are patient and polite when possible, to save yourself time and effort.

My paperwork was submitted hours ago but I don't have my PARS/PAPS status, what do I do?


Get in touch with the broker if this occurs. You can use the Zipments broker directory to find contact information.
If I have no PARS or PAPS labels but I need to cross today, what do I do?
Contact Zipments to get instant emergency use labels if you are crossing today.




What is a customs broker?


A customs broker is the licensed individual or entity dealing with customs, to facilitate border clearance. They work with customs or border agents and help the goods cross the border legally. The broker is responsible for gathering and submitting paperwork, ensuring the duties and fees are calculated and taken care of, as well as any other task needed to facilitate the clearance of the shipment. These individuals are licensed to handle importing/exporting and thus know CBP and CBSA regulations well.
Do I need a customs broker?
Legally brokers are not required, but it is a complex process to clear a shipment without using one. You can face audits, fines and costly mistakes if there is a mistake in the import or export process, so being on the right side of regulations is important.
Who hires a customs broker?
While brokers can be used by anyone depending on need, the importer is usually the one hiring the broker to clear the shipment. A consignee or importer will pay for and choose a customs broker to get goods cross border into the country, when needed.
Where should a customs broker be located?
When it comes to freight shipping, you need to hire a broker on the side of the border you are shipping to. So if you are shipping from the U.S., you need a Canadian broker. If you are shipping from Canada, you'd need a broker on the U.S. side. A lot of brokerages have brokers on either side of the border, so depending on which broker you choose, you may only need to hire one.
How long does it take to hire a broker?
You should set aside at least 14 business days to hire a broker and get them up to speed with the details of your shipment.
What is Importer of Record?
When shipping, the party that is responsible for paying duties, fees or taxes on the shipment is listed as the importer of record. This can be the buyer or seller, whoever has ownership over the goods, however often it is the purchaser of goods.
How do I get a customs invoice?
A customs invoice has to be attached to all shipments trying to cross the border. It has to contain relevant data about the shipment and it has to match the information on the bill of lading. You can automatically generate a customs invoice using Zipments, with an easy fillable format, so you do not miss any details or important fields.

Who is Responsible for Duties or Taxes?
While customs brokers calculate or assess for duties and taxes, the importer of record, or the purchaser, is responsible for paying these fees. However in cases that the shipper is a non-resident importer, then the shipper is responsible.
Do I need HS codes?
All shipments must be classified under the tariff system, so

yes.

If you opt to use Zipments to create a customs invoice, the technology also automatically generates tariff codes for the invoice, thus simplifying the process.
What is a carrier bond?
In order to transport cross border, you have to obtain an international carrier bond with the U.S. customs or CBP. You can file these at the port of entry or exit.
Do I need a carrier code if I am a U.S. based carrier?
Yes, in order to do cross-border. It is easy to get, simply apply using the Zipments Carrier Code application form.
What is FAST certification?
Free and Secure Trade (FAST) certification is a program implemented in North America to make sure that safety and security are highlighted. Carriers undergo a risk assessment in order to be certified. This certification speeds up border crossings and ensures safer cross-border trade.
What is ACE/ACI?
In order to cross into Canada or the U.S., you need to file an electronic manifest, as a security protocol. The manifests are detailing the information of the shipment, and are submitted pre-arrival. In Canada it is an ACI eManifest (Advance Commercial Information) and in the US it is the ACE eManifest (Automated Commercial Environment). These are required, and the truck will not be allowed to cross without them.
What is PARS/PAPS?
Pre Arrival Processing System (PAPS) and Pre-Arrival Review System (PARS) are systems used to facilitate border crossing, by providing customs pre-arrival data ahead of time. The systems electronically links entry information to customs. PARS and PAPS are codes you

need

to have in order to cross. The label has to be attached to the shipment documents. PARS allows CBSA to review the shipment pre-arrival, while PAPS is used in U.S. crossings.

Crossing the Canada-U.S. border in a truck is hard enough, but trying to do it without getting stuck at the border requires knowledge and some prep work. Your shipping process should be painless, so that you can focus on getting to your destination quickly. Before heading out, ensure that the carrier is prepared and that all documents have been double checked for accuracy and completion. If you're not sure what to expect, write out a checklist to make sure you're not missing anything. Knowing these basics of cross-border transport means you can travel with confidence!