BONDED vs. NON-BONDED CARRIERS
Bonded and non-bonded carriers are essential in the transport industry, but it can sometimes be confusing to know which to use.
What is a bonded shipment?
Bonded carriers have authorization to bring goods past the point of entry, without a customs release. Bonded means goods on which customs, taxes or duties are still unpaid. The reason bonded carriers have clearance is because a large sum of money was posted to the border services, such as CBSA (Canada Border Services Agency), prior to transport. Bonded carrier's shipments go to inland offices, they can move through the country or gain release by CBSA, so they are not released at the border like other shipments. To become a bonded carrier you need to obtain a carrier code from CBSA, go through an extensive application process, and post financial security, somewhere between $5000 to $25,000.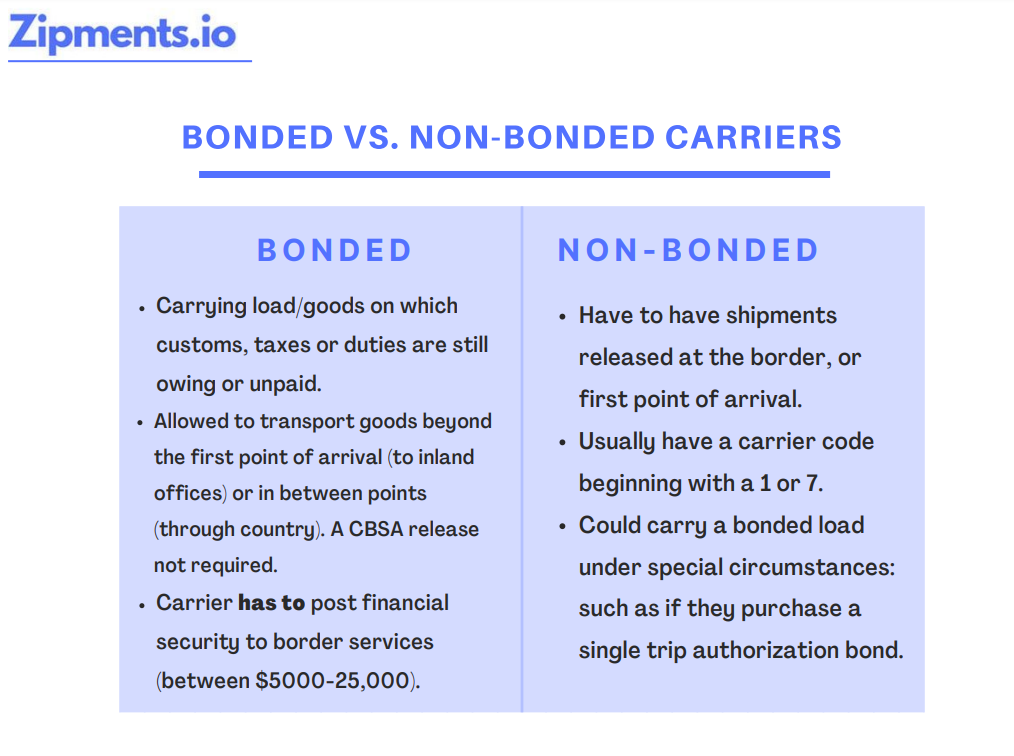 Non-bonded carriers have to have their shipments released at the border, or first point of arrival. Non-bonded carriers usually have a carrier code beginning with a 1 or 7, and one way for them to carry a bonded load would be to purchase a single trip authorization bond.
The advantages of bonded carriers are that they are allowed to transport goods beyond the first point of arrival, so they avoid long wait times at the border. Bonded carriers help expedite shipping, but they are not mandatory.
Good news is; you do not have to be a bonded carrier to transport to Canada. We have made the Canada Carrier Code application generator, which allows non-bonded carriers to still apply and transport to Canada. Our generator automatically submits your form to CBSA, after first being reviewed by our industry specialists to ensure you meet the requirements.
All truckers, including smaller operators, can still use the Zipments efficient PARS/PAPS labels and tracking method, to speed up border crossing!